What we liked:
- No pop up ad
- Very Few banner ads
- Fast Video streaming
- Mobile Friendly
- Simple User Interface
What sucked:
- NO GIF's and Pictures avalaible
- No Bookmark options
- Lack of Amateur content
- No Member Profiles
- No Translation (English Only)
- Low amount of clips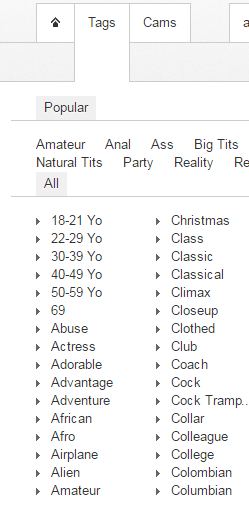 I am going to be 100% honest with you, when I saw that Beeg.com was on my review list, I kind of laughed a little bit.
Why? Because I jerked off on that site so many fucking times, I adore the bloody site. (or at least I used to)
Can you say NO ADS?  The site used to have no ads whatsoever which made browsing the site a Breeze, however it seems they have added a few banner ads on the video player, and 2 more on the right side of the site when you are on a video page. (still not a lot compared to the dozen you can find on other big porn Tubes.)
Other cool things about it is the simplicity of it, no crazy amount of members, mail boxes and countless gimmicks. We do understand that for the majority of the surfers the lack of functionality will deter them from using the site. ( for that reason we have to give it a lower "Interface" score)
You have clear thumbs, categories and a search box… and those are just for starters, check out the quality of the videos,  fucking awesome!
They do have daily updates keeping the front page always fresh with new clips, pretty much every clip is in HD quality. The downside of having high quality clips is the the low amount of videos avalaible, we counted around 23k videos total.
Last but not least they categories (called tags) that make sense and that are hard to find elsewhere. like "Money, 30-39 years Old ( I don't know about you but I like checking out girls that are actually my age or a bit older) , Stepsister and Street" those aren't very common on other Tubes but very popular in today's porn market.
The site performance is also pretty high with a 77/100, super light front page size with a tiny 970Kb (great loading time)
I pulled out some numbers (below) for our Techie readers